79M12 is a voltage regulator integrated circuit. It is a member of 79xx series of fixed linear voltage regulator ICs. The voltage source in a circuit may have fluctuations and would not give the fixed voltage output. The voltage regulator IC maintains the output voltage at a constant value. The xx in 78xx indicates the fixed output voltage it is designed to provide. 7912 provides a regulated supply of -12 V and 1A current. Its additional features include internal thermal overload protection, short circuit protection and output transistor safe operating area compensation.
The MC79MXX series of fixed output negative voltage regulators are intended as complements to the popular MC78M00 series devices. Available in fixed output voltage options of −5.0 V, −8.0 V, −09 V and −15 V, these regulators employ current limiting, thermal shutdown, and safe−area compensation, making them remarkably rugged under most operating conditions. With adequate heatsinking, they can deliver output currents in excess of 0.5 A.
Where to use LM7912:
LM7912 belongs to the family of Voltage regulators. The name "79" indicates negative and the term "12" indicates the voltage. So "7912" means that this IC will regulate a negative 12V for your projects. You can also check on 78 series for positive voltage regulators.
When you are designing an analog circuit, the circuit might need negative voltage either as a power source or as a reference voltage. In both cases, 7912 will be an ideal choice when you need a negative 12V. The output current of this IC is up to 1A, however, with an appropriate heat sink, the datasheet says that a peak current of 2.2A can be achieved through this IC.
---
How to use LM7912 Voltage regulator:
The LM7912 is a -12V Voltage regulator IC. Meaning it will provide a constant output voltage of -12V when the input voltage is between -14.5V to -27V. A very basic Voltage regulator circuit is shown below.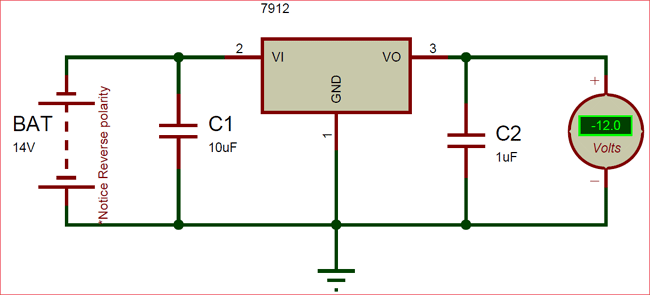 In Above circuit, Battery is shown to power the IC, but you can use any power source but notice that the supply voltage should be negative. Hence, I have interchanged the polarity of the battery. The Input and output capacitors C1 (10uF) and C2 (1uF) are used to filter noise from the input and the output voltage respectively. The negative output voltage is obtained from the Vo (3rd Pin) which is also read using a Multimeter. The value of the capacitors need not be the exact values, you can use the closest value you have got.
There are many other ways in which the IC can be used based on your application.
---
Features:
No External Components Required
Internal Thermal Overload Protection
Internal Short Circuit Current Limiting
Output Transistor Safe−Area Compensation
12V Negative Voltage Regulator
Minimum Input Voltage is -14.5V
Maximum Input Voltage is -27V
Peak Output Current is 2.2A
Average Output Current is up to 1A
Internal Thermal Overload and Short circuit current limiting protection is available.
Available in TO-220 package only.
Applications:
Constant -12V output regulator to use as power or reference voltage for analog and digital circuits.
Current Limiter for certain applications
Regulated Dual Supply
Output Polarity-Reversal-Protection Circuit
---
Package Includes:
1 x 79M12 TO-220-3 Linear Voltage Regulator (Pack of 3 ICs)
Note: Image may vary from actual product in terms of Manufacturer/Brand name according to the availability.